Are you familiar with
Charles Schultz
and his famous comic strip
Peanuts
? When I was a kid, it was my favorite comic strip. They used to publish these cute little paperback Peanuts books, and I bet I owned most of them. I am sick that I ever got rid of them.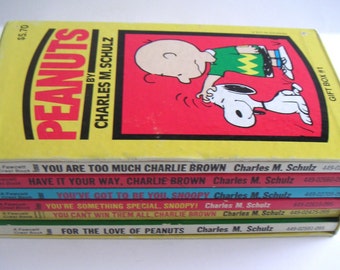 Every once in awhile I'll run across some Peanuts memorabilia at a garage sale or an estate sale and if it's a reasonable price, I'll buy it. I take most of my collection to the lake house. Here's some pictures of some of the things I have....
These Whiteman candy tins came with the small snoopy's in the next photo. I stuck magnets on the tins and have them hanging on my refrigerator.
Another candy tin....
I like the glasses and often use them....
A cute little candy jar....
I have quite a few coffee mugs, including some vintage FireKing mugs. The FireKing ones are my favorites and hard to find...
I have all the mugs lined up on a shelf over the kitchen sink...
Pez dispensers....
Does anyone else collect Peanuts stuff? I love all the characters, but Snoopy and Woodstock are my favorites.